Witches in Fiction
Double, Double, Toil and Trouble: Witches in Fiction
---
 Science Fiction
Strange Brew edited by P.N. Elrod (Sci Fi AAA STR)
Several of the most popular urban fantasy authors come together in this delicious brew that crackles and boils over with tales of powerful witches and dark magic!
The Witch's Daughter by Paula Brackston
Witnessing the death of her witch mother in the spring of 1628, Bess Hawksmith turns to secluded warlock Gideon Masters for protection and learns formidable powers, including immortality, skills she begins teaching to a new apprentice centuries later.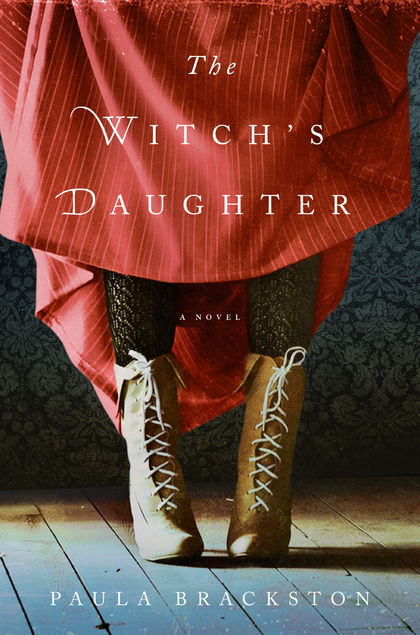 The Doppelganger series by Marie Brennan (Sci Fi BRE)
When a witch is born, a doppelganger is created. For the witch to master her powers, the twin must be killed. But what happens when the doppelganger survives?
Otherworld: Sisters of the Moon series by Yasmine Galenorn (Sci Fi GAL)
This fantasy series follows the adventures of the half-human, half-fae D'Artigo sisters: Delilah, a shapeshifter; Menolly, a vampire; and Camille, a witch.
Witchling (#1)                                                                                                 Blood Wyne (#9)
Changling (#2)                                                                                                Courting Darkness (#10)
Darkling (#3)                                                                                                   Shaded Vision (#11)
Dragon Wytch (#4)                                                                                          Shadow Rising (#12)
Night Huntress (#5)                                                                                         Haunted Moon (#13)
All Souls Trilogy by Deborah Harkness (Sci Fi HAR)
Witch and Yale historian Diana Bishop discovers an enchanted manuscript, attracting the attention of 1,500-year-old vampire Matthew Clairmont. The orphaned daughter of two powerful witches, Bishop prefers intellect, but relies on magic when her discovery of a palimpsest documenting the origin of supernatural species releases an assortment of undead who threaten, stalk, and harass her.
The Hallows series by Kim Harrison (Sci Fi HAR)
Set after a disease wiped out a large portion of the human population and revealed the existence of witches, vampires, demons and other supernatural creatures, a witch named Rachel Morgan takes on the evildoers in her supernatural community. 
The Good, the Bad and the Undead (#2)
Bronwyn the Witch series by Candace Havens (Sci Fi HAV)
With her globetrotting career of protecting the British Prime Minister, Bronwyn isn't your ordinary witch. But her powers can't help her decide between a sexy Sheik and the town doctor, who happens to be a warlock-and more than worthy of a liplock.
Downside Ghosts series by Stacia Kane (Sci Fi KAN)
Chess Putnam, a freewheeling witch and ghost hunter, has a talent for banishing the wicked dead – a talent that is in demand after the dead rose and began attacking the living.
City of Ghosts (#3)
Elemental Masters series by Mercedes Lackey (Sci Fi LAC)
This series of  recreated fairy tales feature witches, wizards and sorcery.
The Elemental Logic series by Laurie J. Marks (Sci Fi MAR)
The world of Shaftal, ruled for centuries by an earth witch, falls into chaos after her death. a new earth witch and her companions, each with talents with the elements, must pull Shaftal out of chaos.
A Nameless Witch by A. Lee Martinez (Sci Fi MAR)
Hiding her inherent beauty while hunting for men to consume, an immortal witch enters a reluctant partnership with the pure-hearted White Knight in order to counter the efforts of an insane sorcerer who is threatening their world.
The Wicked Years series by Gregory Maguire (Sci Fi MAG)
This retelling of the Wizard of Oz questions the notions of good and evil, portraying the Wicked Witch of the West as a good but misunderstood woman.
Wicked: The Life and Times of the Wicked Witch of the West (#1)
Out of Oz: The Final Volume in the Wicked Years (#4)
The Horngate Witches series by Diana Pharoah Francis (Sci Fi FRA)
The ancient Guardians of the earth are preparing to unleash widespread destruction on the mortal world, and they want the witches to help them. If the witches refuse, their covens will be destroyed, including Horngate, the place Max has grudgingly come to think of as home.
Shadow City (#3)
Alex Craft series by Kalayna Price (Sci Fi PRI)
Alex Craft, a witch with the ability to see and communicate with ghosts, finds love and other surprises among the beautifully dangerous fae.
Lives of the Mayfair Witches series by Anne Rice (Sci Fi RIC)
Demonstrating once again her gift for spellbinding storytelling and the creation of legend, Anne Rice makes real for us a great dynasty of witches – a family given to poetry and incest, to murder and philosophy, a family that over the ages is itself haunted by a powerful, dangerous, and seductive being.
The Circle Trilogy by Nora Roberts (Sci Fi ROB)
This epic tale that breaks down the boundaries between reality and the otherworldly, while forging together the passions of the men and women caught in a battle for the fate of humanity.
The Watcher series by Lilith Saintcrow (Sci Fi SAI)
Theodora Morgan knows she's a little strange. Her talent for healing has set her apart, marked her as different all her life. But will her tall, dark and handsome protector help her or hurt her?
The Chronicles of Ynis Aielle series by R.A. Salvatore (Sci Fi SAL)
Jeff "Del" DelGuidice was proud of his assignment to the research submarine The Unicorn. But his mission had barely begun when the vessel was sucked into a mysterious underseas void where time stood still, before propelling it forward, through the centuries. 
Echoes of the Fourth Magic (#1)
Rowan Gant Investigations series by M.R. Sellars (Sci Fi SEL)
When a young woman is ritualistically murdered in her Saint Louis apartment with the primary clue being a pentacle scrawled in her own blood, police are quick to dismiss it as a cult killing. Not one for taking things at face value, city homicide detective Ben Storm calls on his long time friend, Rowan Gant – a modern day practicing witch – for help. 
Harm None: A Rowan Gant Investigation (#1)
Never Burn a Witch: A Rowan Gant Investigation (#2)
Perfect Trust: A Rowan Gant Investigation (#3)
The Law of Three: A Rowan Gant investigation (#4)
Crone's Moon: A Rowan Gant Investigation (#5)
Love is the Bond: A Rowan Gant Investigation(#6)
All Acts of Pleasure: A Rowan Gant Investigation (#7)
The End of Desire: A Rowan Gant Investigation (#8)
---
Mystery
Bewtiching Mystery Series by Madelyn Alt (Mystery ALT)
Antiques-shop clerk Maggie O'Neill was a little weirded out when she discovered her new boss Felicity was a witch. But when Felicity becomes the suspect in a local murder, Maggie must enlist Felicity's wiccan friends for help–and discover her own spellbinding talent.
Witchcraft Mystery series by Juliet Blackwell
Fever Devilin series by Phillip DePoy (Mystery DEP)
Leaving his job as an academic to return home to the Georgia Appalachians, folklorist Fever Devilin finds his homecoming taking an unexpected turn when he stumbles upon a corpse on his front porch, leading him to discover a world of mystery and witchcraft.
A Minister's Ghost (#3)
---
Romance
Triplet Witch Trilogy (Romance BLA)
Follow the adventures of the Cartwright sisters – Harmony, Destiny and Storm – triplets, witches and unstoppable seductresses.
Sex and the Psychic Witch (#1)
Southern Witch series by Kimberly Frost (Romance FRO)
The family magic seems to have skipped over Tammy Jo Trask. All she gets are a few untimely visits from long-dead, smart-mouthed family ghost Edie. But when her locket-an heirloom that happens to hold Edie's soul-is stolen in the midst of a town-wide crime spree, it's time for Tammy to find her inner witch.
Would-Be Witch (#1)
Arcane Shot series by Joey W. Hill (Romance HIL)
Gun-shop owner and witch Ruby Night Divine, who considers her Smith & Wesson more reliable than her powers, agrees to help a powerful sorcerer train a coven of witches to fight a demon and his minions, in a mission that jeopardizes both her heart and soul.
In the Company of Witches (#2)
The Donovan Legacy by Nora Roberts (Romance ROB)
Morgana Donovan, a beautiful woman gifted with extraordinary abilities, proves to Nash Kirkland, a hardheaded skeptic who is using her to research his latest screenplay, that magic really does exist
Charmed and Enchanted (#3 & #4)
Babes-on-Brooms series by Vicki Lewis Thompson (Romance THO)
These charming tales of love and witchcraft feature the sexy and magical Revere sisters.
---
Main Fiction
Corrag by Susan Fletcher (Main Fiction FLE)
Set in the year 1692, Corrag is imprisoned and awaits execution for witchcraft after the massacre of 38 members of the Macdonald Clan.
Deliverance from Evil by Francis Hill (Main Fiction HIL)
A novel exploring the emotion and the reality of the Salem Witch Trials.
Three Sisters Island series by Norah Roberts (Main Fiction ROB)
Fleeing her abusive husband, Nell Channing takes a job in a bookstore cafe on Three Sisters Island and then learns that the island suffers from a terrible curse – one that can only be broken by the descendants of the Three Sisters, the witches who settled the island in 1692.
Salem Falls by Jodi Picoult (Main Fiction PIC)
Robbed of his teaching career and reputation by a student's false accusations, Jack St. Bride is struggling to rebuild his life in the wake of an eight-month jail sentence by taking a job washing dishes at Addie Peabody's diner, but fresh accusations of rape by teenage girls from his former school threaten to destroy him once again.
The Hangman's Daughter series by Oliver Pötzsch, translated by Lee Chadeayne (Main Fiction POT)
In this historical thriller set in 17th century Germany, hangman Jakob Kuisl is called upon to investigate whether witchcraft is at play in his small Bavarian town after a dying boy is pulled from the river with a mark crudely tattooed on his shoulder
The Blair Witch Project by D.A. Stern (Main Fiction STE)
In October of 1994, three student filmmakers disappeared in the woods near Burkittsville, Maryland, while shooting a documentary about a series of disappearances. A year later their footage was found.
The Eastwick series by John Updike (Main Fiction UPD)