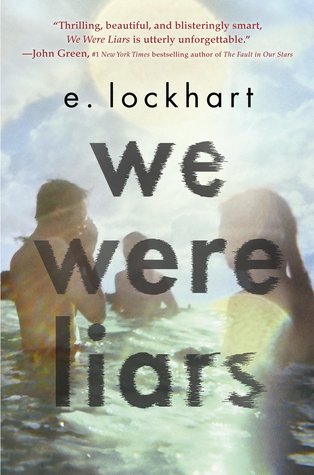 I'm kind of feeling like E. Lockhart lulled me into a false sense of security with her more light-hearted previous novels. This one was devastating and I'm still kind of reeling from the final moments of the book.
Cadence Eastman Sinclair comes from an extremely wealthy family. The type that summers on a private island off the coast of New England. The type that plays tennis, owns pure-bred golden retrievers, and inherits mountains of money. These summers on the island are golden. Cadence and her cousins, Johnny and Mirren, are joined by Johnny's step-father's nephew, Gat and all four are roughly the same age. They call themselves the Liars and set themselves apart from the rest of the family.
Something terrible happens the summer they are all 15, but Cadence can't remember any of it. All she knows for certain is that she had some sort of head injury that leaves her with devastating migraines. Two years later, she finally returns to the island to find a lot of changes. The Liars are still there and they are very much the same as she remembers, but the main house has been rebuilt, the family tiptoes around the events of two summers ago, and the family's patriarch is showing signs of Altzheimer's. Cadence is determined to uncover the truth about that fateful summer, but no one wants to talk about it. Not even the Liars. Everyone wants Cadence to remember things on her own.
Gradually, the memories start coming back and Cadence is able to begin piecing together the events that have brought the family to this point. As it turns out, some things really are so painful that the brain will block them out. I don't envy Cadence on any level.
This is one of those books with a surprise ending. Some readers may figure it out, but I wasn't one of them. It completely caught me off guard and left my heart hurting. It's a brilliant book with fantastic and intriguing characters, even if they're not always likeable.