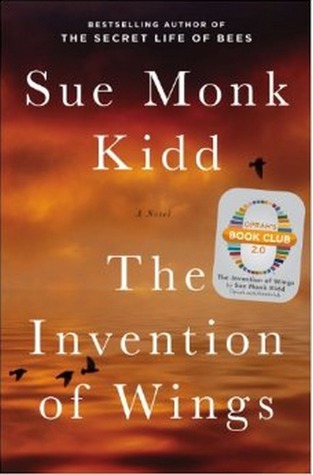 Sarah Grimke is the daughter of a prominent Charleston family and on her 11th birthday is given Handful as her own personal slave. Sarah doesn't like being a slave owner. She is intelligent and wants to be the first female jurist. Unfortunately, her family doesn't support either her ambitions or her feelings on slavery. Sarah grows up to be an old maid, a Quaker and an abolitionist, all things her family can't stand. She heads off to Philadelphia and his followed by her sister Angelina. Together they embark on an abolitionist speaking tour around New England. Their views are radical and dangerous, but they persevere as two of the first women to speak about the rights of women and slaves. 

Sarah's chapters are interspersed by Handful's story. Handful and her mother are slaves of the Grimke's and seamstresses which make them very useful to the family. Her mother Charlotte has an independent streak and sneaks out of the house repeatedly meeting up with a free black man and eventually becoming pregnant. When she gets in trouble she runs away, is eventually caught by a slave stealer and sent to a rice plantation. Handful develops her own independent streak which lands her in the workhouse and lame. Eventually, after many years, Charlotte makes her way back to the Grimke house with her teenage daughter Sky. The family is more determined than ever to get free one day. 

Sarah and Handful's friendship crosses social and racial lines but that doesn't mean it isn't important. Sarah teaches Handful to read and Handful helps give Sarah the conviction she needs to find her own path. I enjoyed this story even more after I realized it was about real people. Sarah and Angelina Grimke are actual historical figures and Sue Monk Kidd tried to stay as true to their stories as possible. While Handful is a fictional character her story rings true as well. This is a powerful story and two women and their desire to be free.