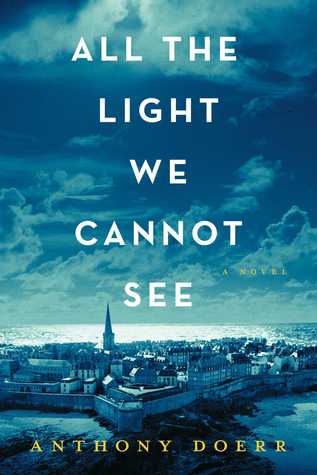 My mom recommended this book to me and I am so glad I finally read it. It is a powerful story, told beautifully. It is a story of love and loss and survival and death. It is the story of two children coming of age during WWII. Marie-Laure is a beloved daughter of a Paris museum locksmith. She has grown up surrounded by the museum and all its treasures. When she goes blind her father builds a replica of their neighborhood so she can find her way around. He also spoils her with little puzzles and treasures. Warner is an orphan living in a children's home in a mining town in Germany. He is mechanically brilliant, building a radio from scratch and repairing things in the town. He fears being sent to work in the mines and dying like his father. He is protective of his younger sister Jutta, but doesn't really know how to help them. When he is given the opportunity to attend a Nazi technical school he jumps at the chance. School is a lot more brutal than he thought it would be, but he finds a way to survive.
Marie-Laure and Warner's stories are told alternatively through their childhood and the present day at the end of the war. They both end up in Saint-Malo on the French coast. Marie-Laure and her father have fled Paris ahead of the Nazi occupation and taken up residence with her great uncle Etienne. Her uncle was traumatized by WWI and doesn't leave the house; he suffers bouts of PTSD that leave him hiding in his room for days. Marie-Laure's father again builds a model of the neighborhood so she can find her way about, but then he disappears. Warner has become part of a radio unit that hunts down insurgents. Their quest has led them to Saint-Malo. Little does he know that the radio broadcasts giving out information to the French resistance is the same one he listened to as a child on his homemade radio. Etienne has again taken to the airwaves after being convinced by his housekeeper to join the fight. Warner is intrigued by the blind girl he sees coming out of the house and finds himself protective of her and Etienne. Their stories intersect during the last days in Saint-Malo as it is being bombed by the Allies.
Interspersed with all of this is the story of the Sea of Flames, a singular blue diamond with a heart of fire. It has traveled the world before ending up in the Paris museum. It is said to be cursed, offering immortality to its bearer but death to all those you love. Marie-Laure's father was entrusted with its safe keeping when he fled Paris. A Nazi officer has been pursuing it across France as he also evaluates other jewels confiscated by the Nazis. He is dying and is determined to get the jewel in the hopes of saving his life. His search leads him right to the door of Marie-Laure.
I loved this book and really had a hard time putting it down. It is beautifully written and Marie-Laure and Warner came alive on the page. I couldn't wait to see how their stories would finally intersect. This book really brought out the lives of ordinary people in the war. Even though Marie-Laure and Warner are extraordinary in their own ways, there stories are ones shared by others during that time. They are doing what they can to survive and remain themselves. I thought the ending was perfect. It wasn't a happy ending, yet it was in many ways. This book is definitely worthy of all the praise that has been heaped upon it.