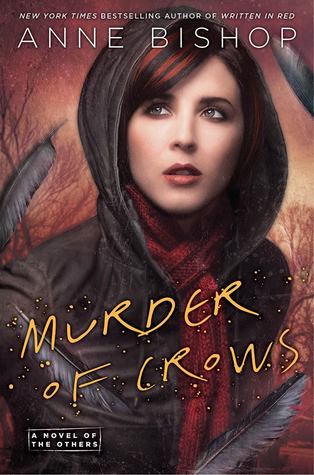 There are certain series I love but really wish I hadn't discovered until the entire series is out. Why? Because I want to devour them all in one sitting of course. After having read the first two books in this series I was disappointed to find out I am going to have to wait until next year to read the next one. Ugh!!

Murder of Crows picks up where Written in Red left off. The citizens of the Lakeside Courtyard have successfully fought off the mercenaries who were coming to kidnap Meg and young Sam and take them back to the Controller. So one problem has been solved, but the bigger issues still remain. There are still lots of places with tensions running high between the terra indigene and the humans. There are more instances where the drugs gone over wolf and feel good have caused havoc. And now there are reports of tainted meat causing the same kinds of problems the drugs did. For those who know where the drugs are coming from this is disturbing news. The humans don't seem to realize how tenuous their place is in the world and how short their time might be if they keep pissing off the Others. Meg's prophecies are dark indeed and the future doesn't look very good for the human population. Simon and the rest of the Lakeside Courtyard are trying to solve the problems before they escalate past the point of no return. They are working closely with the local police to find solutions and peace. It is not escaping the notice of other Courtyards or terra indigene. They are on the hunt for the Controller and the cassandra sangue he is using to poison the world. 

I think I might have loved this book just as much as Written in Red. Anne Bishop does such a fantastic job of building the worlds she creates and making them come alive. She also does a fantastic job of creating characters you come to love and cheer for. I thought it was interesting that in this book, as in the last, the Others are not the bad guys. The bad guys are the humans. Sure the Others do terrible things, but they are not human and the reader isn't expected to look at them through a human lens. They are other and for the most part think of humans as prey and meat. They tolerate humans because humans provide some of the things they enjoy, but they do not need humans and most of them never want to be around them. That is why I love the dynamic between the Lakeside Others and the humans who work with them. It is meant to show an ideal; it is an experiment to see if humans and Others can tolerate each other enough to live peacefully. It makes for thrilling storytelling.