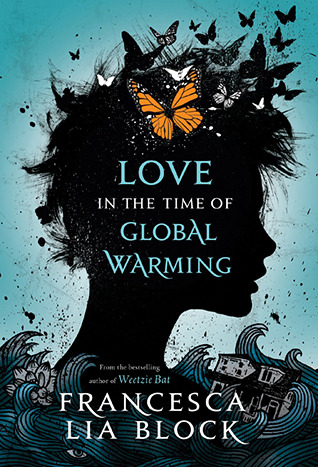 Weird, wonderful, confusing, lyrical, strange, magical, incomprehensible…how to describe this book. The language of the story is beautiful and lyrical. The journey of the book is magical and schizophrenic. The story is a bit of a mess mixed with the Odyssey. On one hand I liked it, but on the other I thought it was a disaster of a book. 

This is the story of Pen (Penelope) who lives in LA with her mom, dad and brother Venice in a pink house by the sea. The end comes in the form of an Earth Shaker which destroys the world. Pen is left alone in her pink house with the sea even closer. She hides out until she is forced to leave. Then she sets off on a journey that mirrors the journey of Odysseus in the Odyssey. She blinds an one-eyed giant, gets stuck in the lotus-eater hotel, meets sirens and witches and seers. She is joined on her journey by beautiful Hex (boy who used to be a girl with a lot of problems) and tragic Ez and Ash. She is searching for her family. Turns out their is also an evil genius who created and cloned these flesh-eating giants and has a vendetta against Pen's family. There is all kinds of crazy going on which just forces Pen to toughen up. She loses an eye but that only makes her able to see even more. And of course her entire journey is based on the path of orange butterflies. 

If you are confused by the description, just imagine how confusing the book is! The writing is beautiful and Pen's story is fleshed out through flashbacks to her life Then (before the Earth Shaker). This is not your typical post-apocalyptic novel. There are magical forces at work here that make the story just a bit incomprehensible. It is interesting and beautiful, but definitely confusing. I thought there was just a little too much reliance on The Odyssey. The characters quote from it constantly and are way more familiar with the story than your average teenagers; they also say things like "this is just like the Odyssey" which I thought was a little too obvious. I've finished the book and am still not 100% sure what I thought of it. I liked it and disliked it.