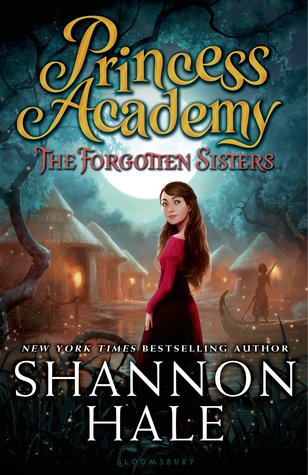 The Forgotten Sisters is the final book in the Princess Academy trilogy. It picks up after the events of Palace of Stone. Miri and the other girls are ready to head back to Mount Eskel. Miri can't wait to see her family and become betrothed to Peder. Just as she is about to leave she is summoned to the king and asked to go to Lesser Alva and train three royal cousins to be princesses. War is coming to Danland and the only way to prevent it is to offer the enemy king a bride. Miri heads off to the swamp expecting to find a much different situation than she does. The three sisters live in an empty stone house; they are not educated; they have no concept of what it means to be royal. Once their mother died their support dried up and they are forced to spend their days hunting for food in the swamp. Miri takes up the challenge to get the girls ready for their debut in Asland. This involves more than teaching the girls to read and write; she must also figure out a way to get their allowance back from the unscrupulous headman of the village. Unfortunately, war comes before the girls are ready and they are not safe even in the swamp backwater where they live.
Every time I read one of these books I remember how much I like Shannon Hale's writing. I could not put this book down. I loved getting to see Miri on her own in an unfamiliar situation. The swamp offered a great background to the story as Miri learns to catch caimans and survive in the mud and the muck. I liked the royal cousins, but didn't think they were developed as well as they could have been. Miri is really the focus of the story as she teaches the girls how to survive as princesses and she learns how to survive in the swamp. I actually loved the ending of the book and really didn't see the twist coming. I had other ideas about the girls that ended up not being true. I thought the ending really suited the spirit of this series and wrapped up the characters' stories really well.
I received a copy of this book from Netgalley.com.