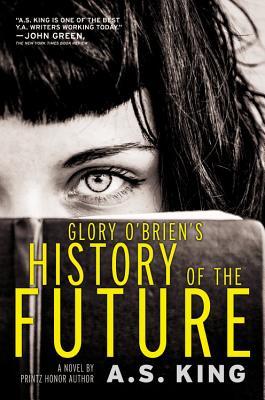 Glory O'Brien has just graduated from high school and doesn't really see a future for herself. She and her dad have been stuck ever since her mom DArla committed suicide when Glory was 4 years old. The only thing Glory has is her photography, which Darla also had. She starts learning more about her mom after taking over the dark room in the basement. She finds her mom's album entitled "Why People Take Pictures" filled with disturbing images and starts answering her mom in her own album.
Glory lives across the road from her best friend Ellie. Only she is not sure she wants Ellie to be her best friend anymore. Ellie lives on a commune run by her mother Jasmine Blue and totally takes advantage of Glory. The girls find a petrified bat and decide to drink it when it turns to dust. The bat gives the girls the ability to see the past and future when they look in someone's eyes. They see people's ancestors doing all kinds of things and they see people's descendants in the future. Glory's visions of the future all revolve around war. There is going to be a second civil war in America. This time it will not be slavery that divides the country but women's rights. The passage of an equal pay bill will splinter the country and some states will end up taking away the rights of women completely. This will divide the country and cause a war as women basically become fugitives or breeding machines.
I am torn about this book. I really enjoyed the contemporary story of Glory trying to figure out her life. In the beginning, she only sees herself through Darla and doesn't believe there is a future for her. Through the visions and the people she meets she starts to see herself as a different person, as someone with a future to look forward to even if it involves war. She also helps draw her dad back into the land of the living. Finally, she comes to terms with her relationship with Ellie and the commune. It was a compelling story and one I really wanted to read. However, the visions of the future just threw me off. I found it so unbelievable that I couldn't buy into the visions or the future they represented. It was an interesting future and made for good storytelling, but it was just too far-fetched for me.