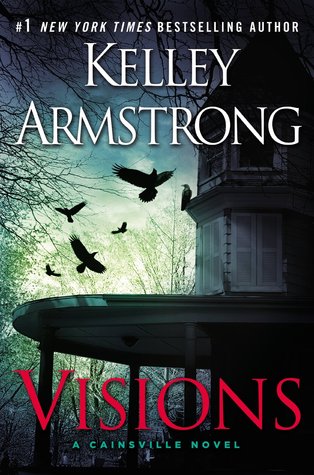 Book 2 of the Cainsville series. So in the first one Olivia finds out she is adopted and her real parents are the serial killers Todd and Pamela Larsen. She escapes Chicago and the media frenzy and hides away in Cainsville. There she hooks up with Pamela's lawyer Gabriel Walsh and starts investigating the killings her parents are convicted of. Crazy things happen. Book 2 picks up after the events of book 1. Olivia and Gabriel have proven that Todd and Pamela didn't kill one of the couples, but there are still three more to investigate. This book takes a bit of a break from the Larsen case and focuses more on other concerns, mainly what the heck is Cainsville.
Olivia finds a body in her car that mysteriously disappears before anyone else sees it. She then discovers the body's head in her bed, which also disappears. Someone is clearly messing with her. Turns out the body belongs to a young who also has Cainsville connections. Olivia and Gabriel set out to figure out what those connections are and why someone is targeting Olivia. In the mean time, Olivia has tried to reconcile with former fiance James Morgan, but decided it wasn't going to work out. He is not taking it well and will not leave her or Gabriel alone. Olivia has moved on to hot, young thing Ricky Gallagher, heir to the biker gang Satan's Saints. They are hot and heavy whenever and wherever they can. Of course Gabriel doesn't approve even though he and Olivia are not like that (anyone can see it is heading that way of course). Things get complicated as they figure out more about Cainsville's secrets and what those secrets have to do with Olivia and Gabriel.
I like the fact that this series is not dragging out the mystery. We learned a lot about Cainsville in this book; definitely not all the secrets but enough to know a little about what is going on. I am a big fan of stories about the fae so this book is really up my alley. I like all the hints throughout which made me get online and look up the words in a Welsh dictionary so I could figure out what they heck they were talking about. It seems there are factions who want Olivia's particular skill set of seeing omens and visions. Will she go with the elders of Cainsville or the sexy Wild Hunt or with the mysterious Tristan and his unknown faction? Can't wait to see where this book goes.