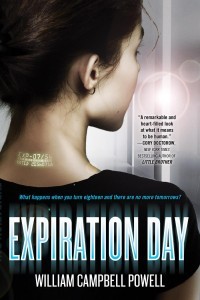 The year is 2049 and humanity is becoming infertile. Very few babies are being born which has led to "the troubles". In order to end the troubles, a company called Oxted started manufacturing robot babies. Parents can adopt the babies and pretend everything is normal. The children go back to Oxted periodically for upgrades so they can seem to grow. No one is supposed to know who is a robot and who is a human kid even the kids themselves. However, during the teen years the robot kids sometimes do something that breaks the veneer of humanity and the parents can't deal so they send them back to Oxted. Doesn't really matter anyway because all the kids have to be returned at 18 to be recycled. What a lovely future!

Tania is 11 when the book starts. She thinks she is human until she falls into the Thames and doesn't drown. Once she realizes she is a robot she embraces her robothood (after a few days of cranky). She has made friends with John and Sian and together they form a band; later they are joined by Kieran to round out the sound. Tania starts exploring the TelNet (internet) to see what she can find out about Oxted and what is going on with humanity; however, this plot point doesn't last very long. The novel is told through Tania's diary entries in which she writes to a future alien Mr. Zog. Of course Mr. Zog answers her posts from the future where he is reading about earth in some kind of archive. 

The story is pretty slow and drags a lot as we are just hearing Tania's side of the story and she is mostly talking about her day-to-day life. The idea of the book was an intriguing one but the execution was pretty terrible. None of the characters actually seemed like real people to me; they didn't talk like real people or act like real people. Maybe it was because most of them were robots but I think it was more poor writing. The world building was atrocious. This is set only 35 years in the future, which isn't really that long, and yet the world has fallen apart. There is no explanation as to why fertility has disappeared or how the robot babies were accepted so quickly. Other than the robots, technology doesn't seem to have advanced very much either. Other than the fact that there doesn't appear to be any real book or music or movies anymore because everything is digital. I also thought it was really interesting (kind of dumb) that everyone seemed to only listen to 70s rock bands???? Lots of music was mentioned throughout the book but very little of it was post-1980. Why? The end did not make reading the whole book worth it at all. I wanted more from this story and was really disappointed that I didn't get it.