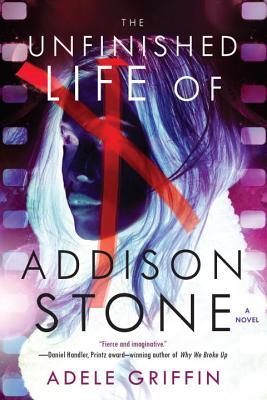 Addison was the most promising artist of her generation. Her death, a fall from a bridge, is a crushing blow to everyone who knew her. The prologue explains that the author, Griffin, was intrigued by Addison and thus began interviewing a wide variety of friends, family, exes, teachers, family acquaintances, etc. to gain a better understanding of who Addison was and what led to her death. Did she slip and fall? Was it intentional on her behalf? Did someone want her dead? Accounts of Addison vary depending on who is being asked, though everyone seems to agree that she was a phenomenal artist with some serious mental health issues. The narrative of the book is entirely commentary from the people in Addison's life and begins more or less at the beginning with Addison's early elementary school years. Also included are examples of Addison's artwork and photos of Addison throughout her life.
We may never really know what caused Addison's fatal slip, but we do get a much better idea of who she was and what brought her up on that bridge. Addison comes across as the quintessential "manic-pixie-dream-girl". Everyone seems to want to know her, but she's frequently aloof. Her art is clearly the most important part of her life, so much so that people, even those she cares about, come in at a distant second. Those who don't like her come across as jealous of her magnetism and talent. She was clearly not the easiest person to be friends with; being her friend involved a lot of work.
I've recently come to the conclusion that I don't really get into books that have this many different narrators. It's incredibly difficult for me to warm up to any of the peripheral characters as we only know them through their relation to Addison and not on their own terms. While I felt like I learned a lot about Addison, I never felt like I knew her as a person, which was likely the intent. This is, however, an interesting experiment in form. There were a lot of themes at play here: the cult of celebrity, the connection between mental illness and creative genius, the effects of being precocious in a city like New York… As a thought experiment, the novel works, but I didn't really love it.