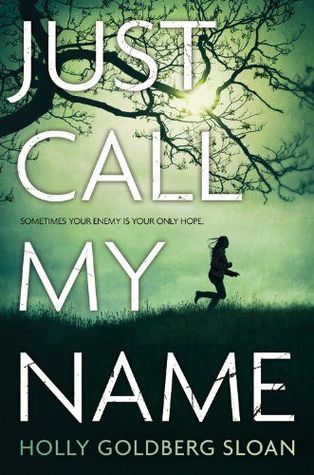 I was so surprised when I met Holly Goldberg Sloan and she told me that there would be a sequel to I'll Be There. It had felt like it wrapped up all the loose ends and, since it didn't end of any sort of cliff-hanger, I didn't even suspect that a sequel could be in the works. Since I adored its predecessor, I was definitely excited to read Just Call My Name. And then, lucky me, I got an ARC from the good folks at Little, Brown.
So, our story left off with Clarence Border in jail and his sons being taken care of by the Bell family. Sam and Emily are now an established couple. Riddle is starting to settle into the Bell household, much to the chagrin of Jared Bell. Sam lives on his own in an apartment while he takes summer school classes to prepare for college courses in the fall. Things seem pretty solid until a new girl comes to town. Her name is Destiny and she is the type of girl that seems to attract trouble. She's tiny, bubbly, large chested and charismatic. She latches on to Emily, Sam and Robb (formerly Bobby, Emily's unfortunate prom date from the last book). Emily can tell that the boys are attracted to her, even if they don't want to admit to themselves. Sam can tell that Destiny is attracted to him and he becomes desperately afraid of being in her presence, lest he do something that will ruin his relationship with Emily. Robb seems infatuated with her and quickly finds himself finding a place for her to stay as it is established early on that she's something of a transient. With Destiny disrupting the peaceful calm that the crew had found in the absence of Clarence Border. In the meantime, we watch Clarence plotting and scheming until he finds the perfect opportunity for escape. He's got a score to settle with the Bell family and his boys. And he knows exactly how and where to find them.
So, I had some trouble figuring out what to rate this book. On the one hand, it was totally engaging, especially since I was already familiar with the vast majority of the characters and their circumstances. The idea of Clarence re-entering the picture is dreadful, but it's what gives this story its sense of urgency. On the other hand, I'm not entirely certain that I'm loving the Destiny angle. The name "Destiny" and her characterization winds up feeling a tad heavy-handed in the context, though she is absolutely a compelling character. She represents the first major challenge for Emily and Sam's relationship and acts as a distinct foil to Emily's character. Otherwise, it's a true pleasure to be back in the heads of these characters. We're learning a bit more about Emily's brother Jared, who's having trouble sharing his space with this strange new kid, Riddle. Bobby, rechristened Robb, is almost exactly the same as he was went we saw him last in spite of his efforts to reinvent himself. Other than Clarence, the adults are mostly absent from this story. The characters are ultimately what make this pair of books shine and, in that sense, this sequel is a pleasure to read.